You know the episode of The Office where Michael announces Mr. and Mrs. Bob Vance before they are actually married and then, upon realizing his mistake, he goes "uhhhhggshhhhhhhhhh" and awkwardly backs up to join the groomsmen standing at the altar? That's me in every single aspect of my life right now. ¯\_(ツ)_/¯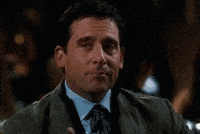 I've been living in a constant state of uhhhhggshhhhhhhhhh (0/10 recommend, btw). But this is my only option, unfortunately. The other day I shared this article on Facebook that resonated with me, and hopefully other people who have experienced loss recently/at any point will find it helpful too.
Unless anyone passing by looked deeply into my bloodshot eyes or noticed the occasional break in my voice and thought enough to ask, it's not like they'd have known what's happening inside me or around me. They wouldn't have had any idea of the gaping sinkhole that had just opened up and swallowed the normal life of the guy next to them in the produce section.
Losing T on Thanksgiving Day and then going through the holidays has given me a constant support group that reaches out to make sure I'm still hanging on (I am hanging on, btw) but the times where I feel most alone and isolated and lost are when I am grocery shopping or running errands. It is almost always when I am surrounded by people. The week before Christmas I went to Target and became so overwhelmed that I started crying in the middle of an aisle with a completely empty cart. There were so many people and they were all in a hurry and I felt like I couldn't keep up. None of the people shopping at Target that day knew that my husband died. There wasn't a way for them to know how hard I was trying to keep it together or that I didn't want to get out of bed that morning. Even now, 33 days after Taylor died, I still struggle. I almost lost it at the grocery store yesterday because it felt like my brain couldn't keep up. Everything was so overwhelming.
And while I didn't want to physically wear my actual circumstances on my chest, it probably would have caused people around me to give me space or speak softer or move more carefully—and it might have made the impossible, almost bearable.
So strangers don't know what I'm going through. And that is okay. They don't need to. The best thing I can do is acknowledge that I am most likely not alone when I feel like crying over an empty shopping cart at the store. Just being aware that I'm not the only one struggling will make it easier for me on the days where things seem impossible and hopefully provide some comfort to the stranger who finds themselves in the same position.
It's not all bad news, though. I've started settling in to what is my new life (at least I think I have?? Who knows. It isn't exactly like I really had it all together when T was here if we are being honest). I've been spending time with friends, I started cooking again, I got a new tattoo (always a great pick me up, if you ask me), and next week I am going to start my slow, but much needed, return to work. I am allowing myself to have fun without quite as much of the guilt I would experience just a few short weeks ago. I know I still have many days of uhhhhggshhhhhhhhhh ahead of me but the fact that I can make through a day without crying seems to be a decent start.
-AK
---
Spotify users! I finally updated the playlist! Be sure to follow my obsessive-compulsive diaries playlist for some of my favorite groovy tunes. It is a delightfully random mix of new songs and old songs from a bunch of different genres. It's a great playlist if you need a good dance party or if you need a cry. Or a crying dance party.