today's blog title inspiration
When I tell you that I have started the process of writing this blog post for months that is no exaggeration. I started one back in May by writing it down on paper but then I lost said paper and used that as an excuse to just give up. I didn't want to give up on the blog, necessarily, but kept putting this intense pressure on myself to come up with a blog post that is helpful and not just me rambling to come up with content. I have had intense writer's block for the better part of 2019. Actually, I'd describe it more like writer's anxiety. I started this blog over a year ago (time flies when you're constantly picking your fingers!) when I was officially diagnosed with OCD in August 2018 to raise awareness/laugh at my struggles but I had no idea that a few months later I would be struggling with such a deep depression that I would cry before I got out of bed every morning. I am not lying when I say my life has taken a complete 180 since August 2018. I was open about my struggles when I started treatment late last year. Once I left the program I decided to take a leap of faith and hit the reset button on life. I left my job and started working part-time, which turned into a full-time gig (which I could create an entirely new blog post on because I've never experienced things randomly work out so perfectly). I spent so much time thinking of all the things that could go wrong if I followed through with leaving my job that I didn't consider the positives. My goal here isn't to encourage people to make major life changes based on my experience. However, if I hadn't pushed myself out of my comfort zone, I don't know where I would be today. I don't mean that in a bad way, I just don't know if I would be in the positive, supportive place that I'm in now. I spent so much of my life (basically all of it seeing as how I've been checking for as long as I can remember) thinking that Anxious was a normal state of mind that it gives me anxiety to not have any anxiety (so much free time?? What do I do??). Sometimes it is worth taking the risk, no matter how scary and terrifying. ¯\_(ツ)_/¯
Don't worry, friends. Obsessive-Compulsive Disorder never leaves. It's an unwelcome guest that has overstayed its welcome but can't take a hint. Do I still check the door before I leave? Yes. Do I still make sure all electronics are unplugged before I walk out the door? Heck yeah. Do I still pick my fingers endlessly? ABSOLUTELY I DO. I am torn because I would rather my life not be a giant ball of anxiety but without the anxiety how would I have content for this blog..? 
-AK
PS: Back in May, when I took pen to paper to physically write a post (that I never typed or published), I wrote something that simultaneously stuck with me and made me laugh at my lame humor: "Basically I am a Mean Girl to myself. I am both Cady and Regina (and also Karen)."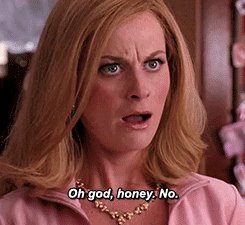 It has been 364 days since this post, which is mind blowing to me. If you're reading this, please know that I am so incredibly grateful for your support.